Case Management Model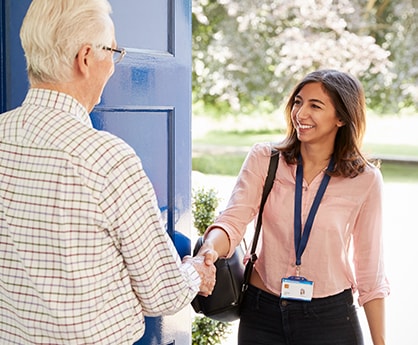 At Homestead, we believe in treating each of our clients with the care and respect that we would for our own family members.
That's why we've developed our Care Management Model, which allows us to address not only the physical and health needs of our clients, but also their all-around well-being. After all, people choose home care because they want to remain comfortable, happy, and healthy in their own home.
The Care Management model starts with a collaborative process that gathers input from our clients and their care providers in order to assess the client's health, financial status and human service needs. From there, we can evaluate your options and services available to meet those needs, then implement, coordinate, or monitor those additional services.
Examples of care management might include coordinating outside resources like therapy and counseling, or ensuring that adequate equipment is available in the home to help our clients live as independently as they are able. Homestead has extensive experience working with hospice organizations, skilled care companies, pharmacy services, visiting physicians, and many other organizations. These services are especially vital for clients who need Alzheimer's or dementia care, or any other condition where treating our clients with dignity and respect goes beyond providing for basic medical needs.
Our insight into the industry allows us to recommend the best providers for each individual's unique care situation.
Homestead Home Health Care Services is much more than just a private duty agency – we're your trusted partner in care.
How Can We Care For You?
Homestead Home Health Care Services is committed to providing you the care you need – when you need it and where you need it. We can help a few hours a week or up to round the clock care. We understand that choosing a home health care company can be a difficult decision.
We're happy to answer any questions you have about the process and what we can do to provide for the needs of you or your loved one. Please contact one of our caring team members to learn more about the services we provide and how we can care for you or loved one. Whether you prefer phone, email, or in-person conversations, we're here for you.