Specialized Employee Training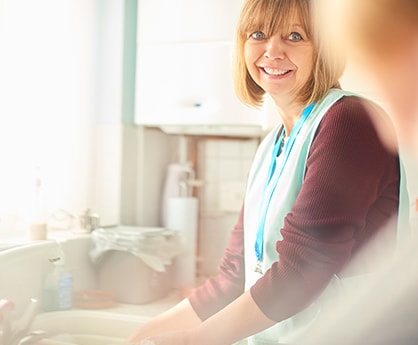 As an advocate for your loved one, it is essential for you to trust their caregivers.  Each Homestead care staff member is thoroughly trained and works under extensive supervision before providing any client care services. Every member of our care staff undergoes an annual background check and is also fully bonded and insured.
At Homestead, we believe that caring relationships should be built on affection, respect, and encouragement. Our team is committed to providing dependable and experienced in-home care so we carefully consider the needs and interests of you or your loved one in order to assign a care staff member with the appropriate strengths and talents. In addition, you have the opportunity to meet with a management team member and potential care staff members to choose the person that best fits your needs prior to starting service.
We're so proud of our training program, call us, we'd love to tell you more about it!
How Can We Care For You?
Homestead Home Health Care Services is committed to providing you the care you need – when you need it and where you need it. We can help a few hours a week or up to round the clock care. We understand that choosing a home health care company can be a difficult decision.
We're happy to answer any questions you have about the process and what we can do to provide for the needs of you or your loved one. Please contact one of our caring team members to learn more about the services we provide and how we can care for you or loved one. Whether you prefer phone, email, or in-person conversations, we're here for you.