Senior Living Communities
Positive Transitions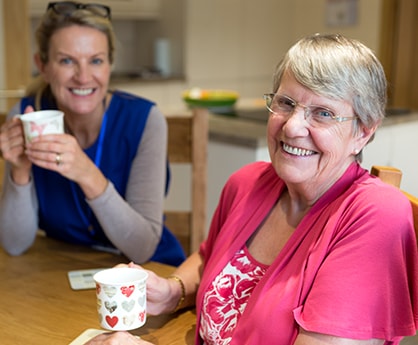 Home care is as much a feeling as a location. Choosing to move to a senior living facility should be an exciting new chapter – and Homestead is here to help you with the transition.
If you've worked with Homestead in the past, you should know that our services can continue without interruption for seniors who choose to move into assisted living facilities. Our goal is continuity of care, no matter where you make your home.
Home health agencies are a vital component to senior living arrangements, allowing older adults the support they need to continue living safely and comfortably in their own homes. However, there are times where it becomes more practical to make the move to a senior living community or a specialized facility to accommodate physical or memory care needs.
Even when the decision has been made, a lack of familiarity with both the environment and the other residents can be intimidating. That's why Homestead offers positive transition services, providing support for our clients as they adjust to a new home.
For clients who are new to Homestead, please know that our care is designed to help you or your loved one feel at home, regardless of location. We can assist with care management, transition services, advanced health care needs, and more. If you need help finding a senior living community, give us a call!
How Can We Care For You?
Homestead Home Health Care Services is committed to providing you the care you need – when you need it and where you need it. We can help a few hours a week or up to round the clock care. We understand that choosing a home health care company can be a difficult decision.
We're happy to answer any questions you have about the process and what we can do to provide for the needs of you or your loved one. Please contact one of our caring team members to learn more about the services we provide and how we can care for you or loved one. Whether you prefer phone, email, or in-person conversations, we're here for you.